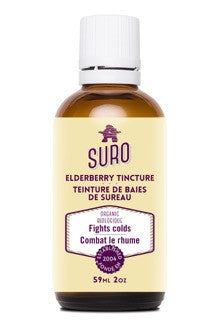 Suro Organic Elderberry Tincture
SURO® tinctures are highly concentrated plant extracts. The elderberry tincture contains all the concentrated health benefits of elderberries without the added sugar. Effective as a preventative remedy in fighting cold and flu symptoms.
Elderberries are proven* to have anti-viral properties. This elderberry tincture is therefore particularly useful when you are exposed to viruses.
NON GMO
Organic
Gluten Free
INGREDIENTS
MEDICINAL INGREDIENTS PER ml:
300mg organic Elderberry (Sambucus canadensis).
NON-MEDICINAL INGREDIENTS:
55% cane sugar alcohol.
DIRECTIONS
Take 20 drops in water 3 times per day
---
We Also Recommend