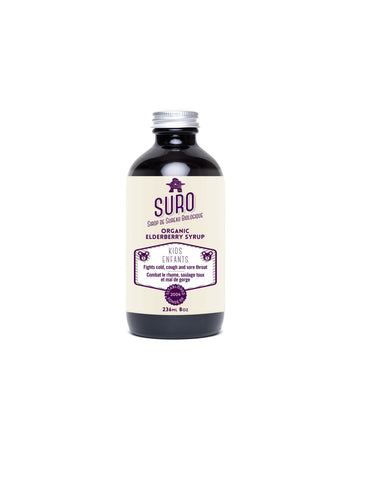 SURO Organic Elderberry Syrup for KIDS
SURO® syrups provide fast, effective relief from colds and flu, cough and sore throat. Elderberries contain over 2 to 3X the antioxidant value of blueberries. SURO™ is an easy and delicious way to take year-round care of your health. Great health can taste this good!
SURO® syrups are a powerhouse of premium ingredients including elderberries and elderflower extract. They have zero water and are fructose-free. The children's formula is safe for women who are pregnant or breastfeeding.
Approved by Health Canada, trust SURO® to help supercharge your immunity naturally.
INGREDIENTS
MEDICINAL INGREDIENTS PER 5ml (tsp):
1:2.77, (1,675 mg) organic Elderberry (Sambucus canadensis); 1:5.08, (28,5 mg) propolis tincture (bee hive); 1:2.14, (100 mg) fresh organic Elderflower.
NON-MEDICINAL INGREDIENTS:
Non-pasteurized organic honey, organic apple cider vinegar.
Traditionally used in herbal medicine to help fight colds and relieve sore throats, cough and fever. Consult a health care practitioner prior to use if you are allergic to bee products, poplar tree products, or balsam of Peru. Consult a health care practitioner if symptoms persist.
This syrup contains honey and other apiarian products. It is not recommended for people who are allergic to such products, or children under one year of age. A hypersensitivity (e.g.,allergy may manifest, if so, stop using.
SURO®syrup contains elderberry pulp. Separation can occur in the bottle over time, causing pulp to float to the top. This is normal. Please shake the bottle very well before use.
NON GMO
Organic
Gluten Free
DIRECTIONS
10 to 14 years old: 1 tsp (5ml) 2 to 4 times per day
5 to 9 years old: 1 tsp (5ml) 2 times per day
2 to 4 years old: 1 tsp (5ml) once a day
1 to 2 years old: Follow health care provider's recommendation
---
We Also Recommend