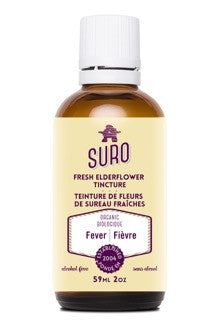 SURO Fresh Organic Elderflower tincture w/out alcohol
SURO® tinctures are highly concentrated plant extracts. The elderflower tincture is ideal as a preventative remedy or at the onset of seasonnal or environmental allergies. It is  suitable for children and women who are breasfeeding.
NON GMO
Organic
Gluten Free
INGREDIENTS
MEDICINAL INGREDIENTS PER ml:
467mg organic Elderflower (Sambucus canadensis).
NON-MEDICINAL INGREDIENTS:
50% cane sugar alcohol or apple cider vinegar in non-alcohol formula.
DIRECTIONS
Take 30 drops in water 3 times per day
---
We Also Recommend