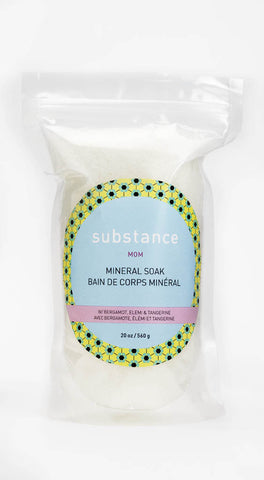 Substance Mineral Soak
Let natural salts eliminate dead cells and rejuvenate your skin's healthy glow.  Infused with skin-nourishing holly and carrot oils and the essential oils of bergamot, tangerine, palma rosa and elemi, this Mineral Soak relieves tummy dryness, relaxes stiff muscles and revives even the most downward of moods.  Immerse yourself in mind, body, and spitit gratification and steep for as long as necessary - or longer!
Muscle soreness/fatigue (for anyone)
Baby blues
Tummy dryness
Exfoliation in bath or shower (for anyone)
INGREDIENTS
Sea salt, epsom salt (promotes circulation, alleviates lactic acid build up), baking soda (soothing, cleansing), holly oil, carrot oil (moisturizing, high in beta carotene), elemi essential oil (uplifting)m bergamot (uplifting), palma rosa essential oil (uplifting, reduces scar tissue), tangerine essential oil.
---
We Also Recommend