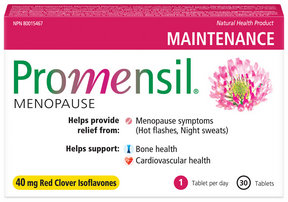 Promensil Regular Strength 40 mg
Promensil is the #1 red clover isoflavone brand globally used for the treatment of symptoms in menopausal women.  It may help to reduce severe and frequent hot flashes in post-menopausal women. Also can help to reduce Bone Mineral Density losses with adequate intake of calcium and vitamin D in post-menopausal women. May support cardiovascular health by improving arterial compliance.
Promensil contains 4 key isoflavones that mimic estrogen in the body, but much weaker and without the risks associated with traditional hormone replacement therapy (HRT). The isoflavone molecules (phytoestrogens) show a preference to bonding with beta estrogen receptors in cells but show no affinity to bond with the alpha estrogen receptors. What this means is that Promensil is able to provide relief of many menopause symptoms associated with lowered estrogen levels in the body without elevating risks of cancer or cardiovascular events, known side effects of HRT.
INGREDIENTS
40 mg AIE standardized isoflavones from red clover
DIRECTIONS
Take 1 - 2 tablets a day
---
We Also Recommend