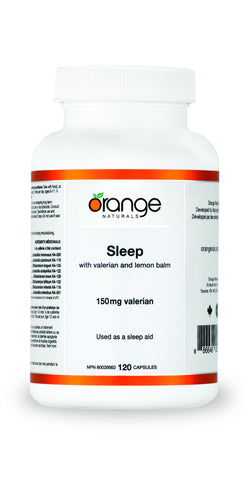 Orange Naturals Sleep with Valerian
Sweet dreams and sleep tight with Orange Naturals Sleep. Gentle and soothing herbs are brought together in a medicinal combination that will help you ease into sleep. It is especially helpful for those suffering from restlessness or insomnia resulting from mental strain and stress. This dreamy formula calms and relieves nervousness allowing the body to relax into sleep. Zzzzzzz…
Relieves stress related insomnia
Eases nervousness and restlessness
Supports healthy sleep patterns 
INGREDIENTS
Each capsules contains 
Valerian (4:1 root extract)

150 mg equiv. to 600 mg 

Hops (4:1 strobile extract)

85 mg equiv. to 340 mg 

Passionflower (6:1 aerial parts extract)

50 mg equiv. to 300 mg 

Lemon Balm (8:1 leaf extract)

75 mg equiv. to 600 mg
Non Medicinal Ingredients
Dibasic calcium phosphate dihydrate, colloidal silicon dioxide, magnesium stearate, gelatin.
DIRECTIONS
Adults: Take 2 capsules, 30 minutes to 1 hour before bedtime, or as directed by a healthcare practitioner.
Contraindications
Do not use if you are pregnant or breastfeeding. 
Cautions
Consult a healthcare practitioner prior to use if you have depression or related diseases, or if sleeplessness persists continuously for more than 3 weeks. 
Drug Interactions
Do not take with alcohol or other medications or natural health products with sedative properties. 
Side Effects
Hypersensitivity has been known to occur - discontinue use if so. May cause drowsiness. Exercise caution if operating heavy machinery, driving a motor vehicle, or involved in activities requiring mental alertness 
---
We Also Recommend