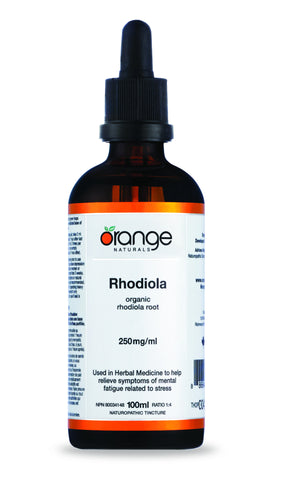 Orange Naturals Rhodiola Tincture
Rhodiola is a stress buster in a bottle. This extract is a traditional folk remedy believed to be helpful for those suffering from nervous complaints or excessive fatigue related to stress. It is used to increase physical endurance, work productivity, memory and even longevity! Greater longevity? Long live Rhodiola!
Reduces fatigue
Helps mental performance
Increases physical endurance and energy
Relieves symptoms of stress such as mental fatigue and feelings of weakness
Excellent source of antioxidants
Made from organic and wildcrafted herbs
INGREDIENTS
Each ml contains 250 mg of organically grown rhodiola root (Rhodiola rosea). It is a 1:4 root extract. 
Non Medicinal Ingredients
40% gluten-free grain alcohol and purified water
DIRECTIONS
Adults: take 2ml, 3 times per day. Do not take immediately before bedtime.
Contraindications
Do not use if you have a bipolar or bipolar spectrum disorder.
Cautions
Consult a healthcare practitioner prior to use if you are pregnant or breastfeeding.
Drug Interactions
Consult a healthcare practitioner prior to use if you are taking antidepressants, hormone replacement therapy or oral contraceptives.
Side Effects
May cause insomnia or irritability - discontinue use if so.
---
We Also Recommend