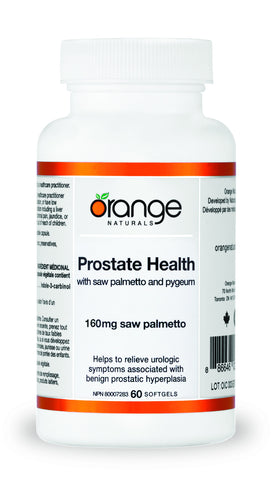 Orange Naturals Prostate Health with Saw Palmetto
Do not let the symptoms of benign prostatic hyperplasia (BPH) take over your life! Symptoms of BPH include weak urine flow, incomplete voiding and frequent urination (day or night). Use Prostate Health with saw palmetto and start sleeping through the night!  
Supports prostate health
Relieves day and night time urinary frequency
Improves urinary flow 
Reduces inflammation and swelling of the prostate related to BPH
A source of essential fatty acid
Advanced prostate support with saw palmetto and pygeum
Synergistic combination with standardized extracts
Easy-to-swallow softgels
Gluten, dairy, soy and corn free
INGREDIENTS
Medicinal Ingredients
Each softgel contains:
Saw Palmetto 10:1 extract, 85-95% fatty acids 

160mg 

Flax Seed Oil 

125mg 

Pumpkin Seed Oil 

125mg
Non Medicinal Ingredients
Gelatin, glycerin, caramel
DIRECTIONS
Adult men:Take 2 softgels daily at mealtimes or as directed by a health care practitioner. 
Cautions
Consult a healthcare practitioner prior to use to exclude a diagnosis of prostate cancer of if symptoms persist or worsen.  
---
We Also Recommend