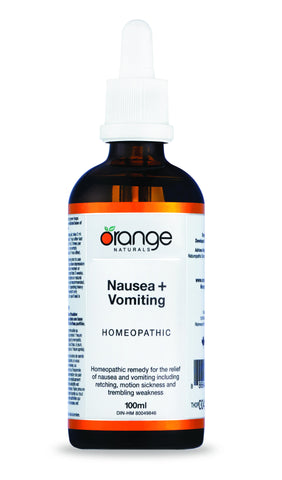 Orange Naturals Nausea & Vomiting
Land or air or sea or car or plane or boat, at home or out on the town – nausea or vomiting can strike at any time. Wouldn't it be nice to have a gentle remedy to soothe whatever tummy complaint beset us? Orange Naturals Nausea + Vomiting is a homeopathic remedy that covers the full range of stomach disorders from travel sickness, to nausea with trembling, to weakness and cold sweats, to vomiting and stomach pains. Whether it's a bad trip or bad food, if your stomach feels turned upside down, reach for this remedy to quietly settle your system. You'll be glad you had some on hand. Provides non-sedating relief for adults.
Alleviates nausea, vomiting, and queasiness
Soothes stomach pains, aches, cramps and discomfort
Supportive relief for symptoms associated with motion sickness
Liquid format is simple to administer and absorbs quickly
No artificial flavors
Does not cause drowsiness
INGREDIENTS
Medicinal Ingredients
Each ml contains
Aethusa cynapium  

30CH

Antimonium tartaricum  

6CH

Borax  

3CH

Ipecacuanha  

30CH

Petroleum  

6X

Veratrum album  

6CH
Non Medicinal Ingredients
25% grain alcohol, purified water, lactose (trace amount)
Recommended Use
Homeopathic remedy for the relief of nausea and vomiting including retching, motion sickness and trembling weakness.
DIRECTIONS
Ages 12 years and over: for general dosing, take 1ml, 3 times per day under the tongue or in a little water. For acute symptoms, take 1ml every 30 - 60 minutes (up to 12 times per day). When symptoms improve, resume general dosing. Shake well before each use.
Cautions
Consult a healthcare practitioner prior to use if you are pregnant or breastfeeding, and during use if symptoms persist or worsen, or if new symptoms develop. Do not use if seal is broken. Keep out of reach of children.
---
We Also Recommend