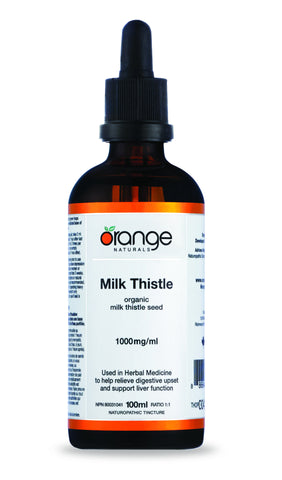 Orange Naturals Milk Thistle Tincture
Think of Milk Thistle as a tune-up for your liver. Your liver is one of the hardest working and most important organs in your body. It filters and clears everything your body is exposed to – food, drugs, alcohol, pollution – you name it! Milk Thistle protects the liver and helps it with all its housekeeping. It is also a great herb for helping digestion because it stimulates the bile flow. Love your liver!
Milk Thistle's active medicinal ingredient, an antioxidant known as silymarin, resides in the shell of the Milk Thistle seed and is responsible for its protective and regenerative effects on the liver. Milk Thistle may also prevent toxins from causing oxidative damage to the liver, thought to be one of the main causes of chronic liver disease.
Promotes liver function
Protects liver health
Supports the detoxification of hormones
Relieves digestive disturbances/dyspepsia
Rich in antioxidants
Made from organic and wildcrafted herbs
Therapeutic dose of condition-specific herbs
Tinctures are rapidly absorbed and metabolized – absorption begins in the mouth, allowing the body to absorb up to 98% of the medicinal components
Large 100ml bottle size offers great value
INGREDIENTS
Medicinal Ingredients
Each ml contains 500 mg of organically grown milk thistle seeds (Silybum marianum). It is a 1:2 seed extract. 
Non Medicinal Ingredients
40% gluten-free grain alcohol and purified water
Recommended Use
Milk Thistle helps to relieve digestive upset and support liver function
DIRECTIONS
Adults: Take 2ml, 3 times per day on an empty stomach. Use for a minimum of 3 weeks to see beneficial effects.
Cautions
Consult a healthcare practitioner prior to use if you are pregnant
Side Effects
Hypersensitivity has been known to occur - discontinue use if so.
---
We Also Recommend