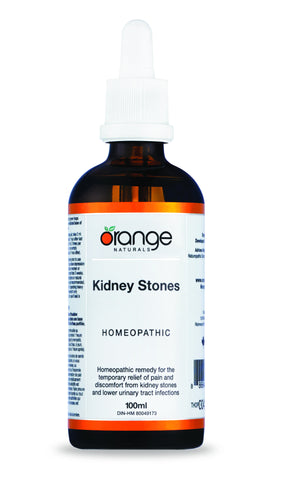 Orange Naturals Kidney Stones
Kidney stones have been a part of medical history for thousands of years, but they are becoming much more frequent. Men, in particular, are susceptible to this painful condition.
What are the symptoms of a kidney stone? Intense pain radiating out from the kidney or flank area, nausea, vomiting, abdominal distension, chills, fever and urinary frequency/infection. Seek medical attention. Orange Naturals Kidney Stones is not a substitute for medical care. However, it can be helpful in relieving many uncomfortable symptoms associated with renal (kidney) stones. In addition to using this supportive homeopathic formula, consider your diet. Lots of green leafy vegetables and fibre plus low amounts of simple carbs, sugars, dairy and purine containing proteins (meat, fish, poultry and yeast) is best. Kidney stones are intensely painful. If you do develop stones then prevention of a reoccurrence is a definite goal. Diet and homeopathy can play a significant role in helping you to achieve this goal.
Alleviates sharp, cutting pains associated with kidney stones 
Soothes burning pain and sensation during urination
Reduces urinary frequency 
Reduces tendency toward stone formation
Liquid format is simple to administer and absorbs quickly
Medicinal grade alcohol base
Gluten Free, Dairy Free
INGREDIENTS
Medicinal Ingredients
Each ml contains
Berberis vulgaris  3X
Cantharis  6CH
Colocynths  6CH
Hydrangea arborescent  3X
Sarsaparilla  6CH
Uva-ursi  1X
Non Medicinal Ingredients
25% grain alcohol, purified water
Recommended Use
Homeopathic remedy for the temporary relief of pain and discomfort from kidney stones and lower urinary tract infections.
DIRECTIONS
Adult: for general dosing, take 1ml, 3 times per day under the tongue or in a little water.
For acute symptoms, take 1ml every 30 - 60 minutes (up to 12 times per day). When symptoms improve, resume general dosing. Shake well before each use.
Cautions
Consult a healthcare practitioner prior to use if you are pregnant or breastfeeding, and during use if symptoms persist or worsen, or if new symptoms develop. Do not use if seal is broken. Keep out of reach of children.
---
We Also Recommend