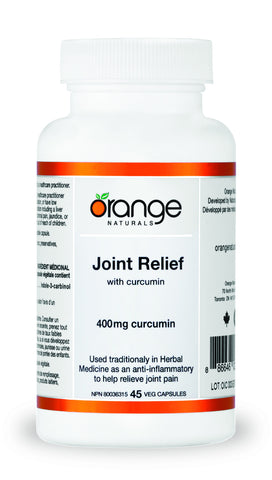 Orange Naturals Joint Relief with Curcumin
If your joints feel tight and inflamed then why not reach for Joint Relief with Curcumin?  Research has shown that it works on joint pain in the same way that anti-inflammatory drugs do but without the side effects! Curcumin is also known as Turmeric. Turmeric is a cooking spice and has been used in Ayurvedic medicine for centuries.
There is a long-standing tradition in India of using Turmeric to prevent and treat inflammatory conditions of the joints.
Reduces inflammation and joint pain associated with osteoarthritis
A source of antioxidant to quench free radicals
Bromelain and Lecithin to enhance absorption
Vegetable capsules
Gluten Free, Vegan, Dairy Free
INGREDIENTS
Medicinal Ingredients
Each vegetable capsule contains
Curcumin (Curcuma longa)  400mg 
Lecithin (20% phosphatidylcholine)  150mg 
Bromelain (pineapple stem)  60mg*
*Equiv. to 900,000 FCC papain unit
Non Medicinal Ingredients
Microcrystalline cellulose, magnesium stearate, dicalcium phosphate, hypromellose
Recommended Use
Used traditionaly in Herbal Medicine as an anti-inflammatory to help relieve joint pain.
DIRECTIONS
Adults: take 1 capsule, 3 times per day between meals, or as directed by a healthcare practitioner
Contraindications
Do not use if you are pregnant or breastfeeding
Cautions
Consult a healthcare practitioner prior to use if you are having surgery, or if you have a medical condition including gallstones, a bile duct obstruction, gastrointestinal lesions or ulcers, or excess stomach acid. Consult a healthcare practitioner if symptoms persist or worsen. 
Drug Interactions
Consult a healthcare practitioner prior to use if you are taking any medication including antibiotics, anticoagulants or antiplatelet medications.
Side Effects
In case of hypersensitivity, nausea, vomiting or diarrhoea, discontinue use and consult a healthcare practitioner
---
We Also Recommend