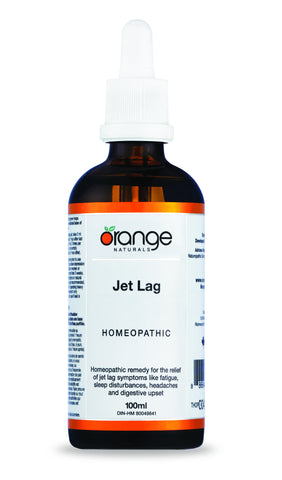 Orange Naturals Jet Lag
Love to travel around the world, but hate the fatigue? Does jet lag hit you like a a ton of bricks at your destination? Throw a bottle of Orange Naturals Jet Lag homeopathic formula into your carry-on and get out to see the world.
Jet Lag can be used during the flight and after landing for a few days to help relieve muscle soreness, overwhelming sleepiness, heavy headedness, dullness and weakness, and it will gently assist your body in re-establishing its normal rhythms.
Relieves fatigue and stress associated with traveling
Helps with recovery from broken sleep after travel
Supportive relief of mental and physical symptoms related to jet lag
Liquid format is simple to administer and absorbs quickly
No artificial flavors
Does not cause drowsiness
Gluten Free
INGREDIENTS
Medicinal Ingredients
Each ml contains
Argentum nitric  30CH
Arnica montana  30CH
Bellis perennis  30CH
Cocculus indicus  12CH
Gelsemium sempervirens  12CH
Kali phosphoric  6X
Picric acidum  6CH
Non Medicinal Ingredients
25% grain alcohol, purified water, lactose (trace amount)
Recommended Use
Homeopathic remedy for the relief of jet lag symptoms like fatigue, sleep disturbances, headaches and digestive upset.
DIRECTIONS
Ages 12 years and over: for general dosing, take 1ml, 3 times per day under the tongue or in a little water. For acute symptoms, take 1ml every 30 - 60 minutes (up to 12 times per day). When symptoms improve, resume general dosing. Shake well before each use.
Cautions
Consult a healthcare practitioner prior to use if you are pregnant or breastfeeding, and during use if symptoms persist or worsen, or if new symptoms develop. Do not use if seal is broken. Keep out of reach of children.
---
We Also Recommend