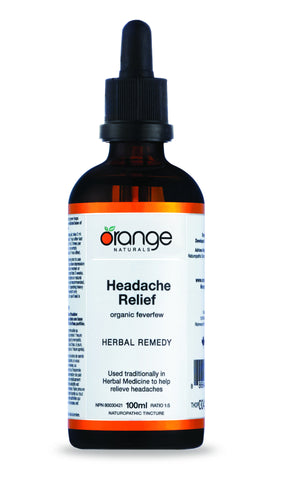 Orange Naturals Headache Relief Tincture
Calling all headache sufferers to come out of the dark! Feverfew to the rescue! Studies have shown Feverfew reduces the severity of headaches and prevents them from coming back so often. For some, Feverfew has helped where nothing has ever helped before. It's also effective for dealing with the symptoms that often come with a vicious headache, such as nausea and vomiting. As a side benefit, it helps support your digestive health. Stop hiding and start living again with Feverfew. 
Aids digestion
Helps relieve headaches
Helps prevent migraine headaches  (use for a minimum of 4 – 6 weeks to see the beneficial effects)
Reduces frequency of severity of migraine headaches (use for a minimum of 4 – 6 weeks to see the beneficial effects)
Reduces symptoms associated with migraines, such as nausea or vomiting
Made from organic and wildcrafted herbs
Therapeutic dose of condition-specific herbs
Tinctures are rapidly absorbed and metabolized – absorption begins in the mouth, allowing the body to absorb up to 98% of the medicinal components
Gluten Free, Vegan, Dairy Free
INGREDIENTS
Medicinal Ingredients
Each ml contains 200 mg of organically grown feverfew herb tops (Tanacetum parthenium). It is a 1:5 herb top extract. 
Non Medicinal Ingredients
40% gluten-free grain alcohol and purified water, with organically grown licorice root as a natural flavour enhancer.
Recommended Use
Feverfew aids digestion and helps to relieve headaches
DIRECTIONS
Adults: Take 1ml, 1 time per day with food. Consult a healthcare practitioner for use beyond 4 months. Reduce dosage gradually if you need to pause or discontinue treatment.
Contraindications
Do not use if you are pregnant or allergic to plants of the daisy family 
Cautions
Consult a healthcare practitioner prior to use if you are breastfeeding
Drug Interactions
Consult a healthcare practitioner prior to use if you are taking blood thinners
Side Effects
Hypersensitivity has been known to occur - discontinue use if so. May cause sore mouth, mouth ulcers, or gastrointestinal discomfort
---
We Also Recommend