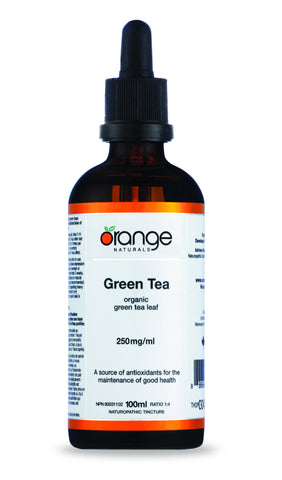 Orange Naturals Green Tea Tincture
Green Tea is chock full of antioxidants, which are the things that help us fight free radicals. You may have heard of them – free radicals are toxins we face on a daily basis that come from pollution, smoking and poor diet choices. Too many free radicals in the body means early aging, so a bountiful supply of antioxidants is the ticket to keeping the body young. Take it in a tincture as part of a most effective anti-aging regime!
Green Tea catechins have been found to promote thermogenesis, boost metabolism and help burn fat. In a study reported by the American Journal of Clinical Nutrition, Green Tea extract significantly increased energy expenditure and had a meaningful effect on fat oxidation.
Excellent source of antioxidants
Aids in the management of weight in conjunction with a program of reduced caloric intake and increased exercise
Made from organic and wildcrafted herbs
Therapeutic dose of condition-specific herbs
Tinctures are rapidly absorbed and metabolized – absorption begins in the mouth, allowing the body to absorb up to 98% of the medicinal components
Gluten Free, Vegan, Dairy Free
INGREDIENTS
Medicinal Ingredients
Each ml contains 250 mg of organically grown green tea leaves (Camellia sinensis). It is a 1:4 leaf extract. 
Non Medicinal Ingredients
40% gluten-free grain alcohol and purified water, standardized to contain 50 mg of total catechins and no more than 5 mg of caffeine.
Recommended Use
Green Tea is a source of antioxidants for the maintenance of good health
DIRECTIONS
Adults: Take 2ml, 3 times per day with food. Consult a healthcare practitioner for use beyond 3 months
Cautions
Consult a healthcare practitioner prior to use if you are pregnant or breastfeeding, or if you have an iron deficiency or liver disorder 
Side Effects
Consult a healthcare practitioner if you develop symptoms of liver trouble, such as abdominal pain, dark urine, or jaundice
---
We Also Recommend