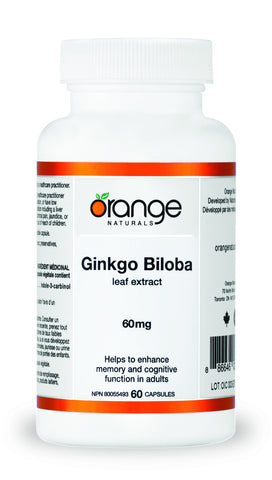 Orange Naturals Gingko Biloba 60 mg
Ginkgo opens up the pathways to your mind. This remarkable plant increases circulation to the brain and keeps it well nourished to help enhance memory and concentration. Better blood flow helps even those cold fingers and toes warm up! 
Improves circulation and oxygen to the brain and extremities
Enhances memory and cognitive function 
Contains strong antioxidant activity and reduces damage to blood vessels particularly those in the brain
High potency ginkgo leaf extract, standardized to 24% flavoglycosides and 6% terpene lactones, the extract most studied
Enhanced with lecithin, a fat-like substance important for brain and nerve tissue
Gluten Free, Dairy Free
INGREDIENTS
Medicinal Ingredients
Each capsule contains
Ginkgo biloba (24% flavoglycosides, 6% terpene lactones)  60mg
Non Medicinal Ingredients
Soybean oil, lecithin, beeswax, gelatin, glycerin, carob
Recommended Use
Ginkgo helps to enhance cognitive function and memory in adults
DIRECTIONS
Adults: Take 2 capsules daily. Consult a healthcare practitioner for use beyond 6 weeks
Contraindications
Do not use for 7 days before or after surgery, or if you are pregnant or breastfeeding. 
Cautions
Consult a healthcare practitioner prior to use if you have a bleeding disorder 
Drug Interactions
Do not use if you are taking health products affecting blood coagulation such as blood thinners, clotting factor replacements, acetylsalicylic acid, ibuprofen, fish oils, or vitamin E. Consult a healthcare practitioner prior to use if you are taking medications or natural health products for high blood pressure, diabetes, or seizures. 
---
We Also Recommend