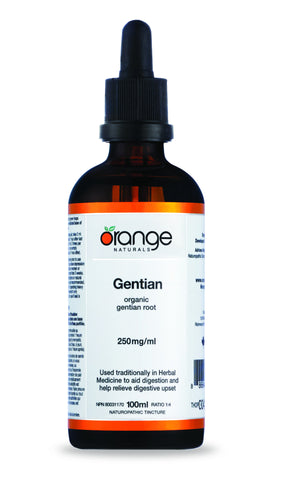 Orange Naturals Gentian Tincture
Queasy tummy? Nausea? Not digesting well? Take a little Gentian 15 minutes to an hour before you eat your meal and see how it can help! It kick starts our digestive juices and speeds up a sluggish digestive system. It even helps with flatulence! Now that's got to be a good thing.
Relieves digestive disturbances and dyspepsia
Acts as a digestive tonic and bitter to stimulate the appetite and aid with digestion
Helps to prevent nausea
Helps to increase the flow of bile
Made from organic and wildcrafted herbs
Therapeutic dose of condition-specific herbs
Tinctures are rapidly absorbed and metabolized – absorption begins in the mouth, allowing the body to absorb up to 98% of the medicinal components
Gluten Free, Vegan
INGREDIENTS
Medicinal Ingredients
Each ml contains 250 mg of organically grown gentian root (Gentiana lutea). It is a 1:4 root extract. 
Non Medicinal Ingredients
40% gluten-free grain alcohol and purified water, with organically grown licorice root as a natural flavour enhancer.
Recommended Use
Gentian aids digestion and helps to relieve digestive upset
DIRECTIONS
Adults: Take 1ml, 3 times per day, 15 - 60 minutes before meals
Contraindications
Do not use if you are pregnant or if you have acute stomach irritation, inflammation, or stomach or duodenal ulcers. 
Cautions
Consult a healthcare practitioner prior to use if you are breastfeeding
Side Effects
May cause headaches
---
We Also Recommend