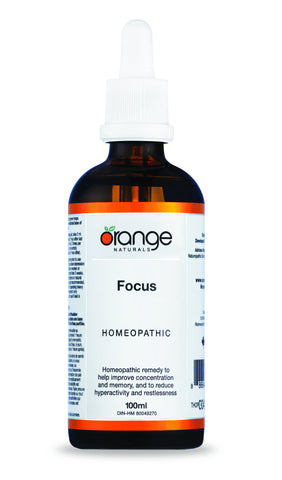 Orange Naturals Focus
Looking for a way gentle way to boost your brain power? Want something natural to calm your overactive mind? Orange Naturals Focus is formulated to improve concentration, attention span and memory. It is also a supportive remedy to balance moods. Focus an all natural way to help ease the effects of concentration challenges.
Improves adult concentration and attention span
Relieves forgetfulness and mental fatigue
Boosts memory functioning
Calms overactive mind
Focused, alert and calm without stimulants 
Liquid format is simple to administer and absorbs quickly
Works without stimulant side effects
Non drowsy
No artificial flavours
Gluten Free
INGREDIENTS
Medicinal Ingredients
Each ml contains
Avena sativa  3X
Baryta carbonica  30CH
Chamomilla  6CH
Hyoscyamus niger  12CH
Passiflora incarnata  1X
Stramonium  6CH
Tarantula hispana  6CH
Zinc metallicum  6CH
Non Medicinal Ingredients
25% grain alcohol, purified water, lactose (trace amount)
Recommended Use
Homeopathic remedy to help improve concentration and memory, and to reduce hyperactivity and restlessness.
DIRECTIONS
Ages 12 years and over: for general dosing, take 1ml, 3 times per day under the tongue or in a little water. For acute symptoms, take 1ml every 30 - 60 minutes (up to 12 times per day). When symptoms improve, resume general dosing. Shake well before each use.
Cautions
Consult a healthcare practitioner prior to use if you are pregnant or breastfeeding, and during use if symptoms persist or worsen, or if new symptoms develop. Do not use if seal is broken. Keep out of reach of children.
---
We Also Recommend