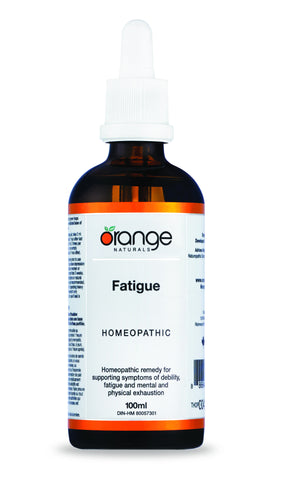 Orange Naturals Fatigue
Looking for a fatigue fighter without the stimulants? Orange Naturals Fatigue is a gentle, caffeine-free homeopathic formulation to help relieve mental and physical exhaustion. Avena Sativa is an effective tonic clinically used for general weakness. Phosphoric Acid and Picricum acidum will help with fatigue due to overexertion and stress. Boost your energy with Orange Naturals Fatigue homeopathic formula.
Provides homeopathic support for physical exhaustion and debility
Supportive formulation for symptoms of mental fatigue
Excellent remedy to help with post illness recovery
Liquid format is simple to administer and absorbs quickly
No artificial flavours
Stimulant-free formula
Medicinal grade alcohol base
INGREDIENTS
Medicinal Ingredients
Each ml contains
Arnica Montana  

30 X

Arsenicum album  

30 X

Avena sativa  

MT

Chelidonium majus  

6 X

Kali phosphoric  

12 X

Phosphoric acid 

12 X

Picric acid  

6 CH

Zincum metallicum  

6 CH
Non Medicinal Ingredients
25% grain alcohol, purified water, lactose (trace amount)
Recommended Use
Homeopathic remedy for the support of symptoms of debility, fatigue and mental and physical exhaustion
DIRECTIONS
Adult: for general dosing, take 1ml, 3 times per day under the tongue or in a little water. For acute symptoms, take 1ml every 30-60 minutes (up to 12 times per day). When symptoms improve, resume general dosing. Shake well before each use.
Cautions
Consult a healthcare practitioner prior to use if you are pregnant or breastfeeding, and during use if symptoms persist or worsen, or if new symptoms develop. Consult a healthcare practitioner if you have a serious medical condition. Do not use if seal is broken. Keep out of reach of children.
---
We Also Recommend