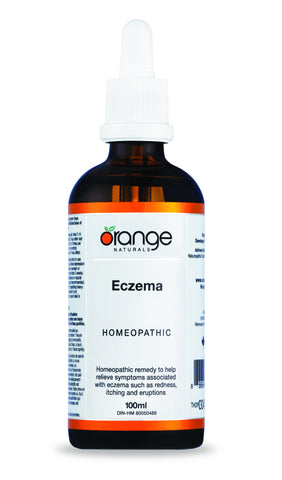 Orange Naturals Eczema
Eczema often responds nicely to homeopathy and dietary changes. Orange Naturals Eczema homeopathic combo is a safe and gentle way to ease itchiness and irritation of the skin. In addition to taking a homeopathic remedy, its a good idea to try and identify food allergens which might be aggravating the condition.
Alleviates itchiness, redness and irritation associated with eczema
Calendula helps to promote healthy skin cell renewal
No artificial flavors
Liquid format is simple to administer and absorbs quickly
Safe, gentle and non-toxic
INGREDIENTS
Medicinal Ingredients
Each ml contains
Calendula officinalis  3X
Graphites  6CH
Hepar sulphuric calcareum  6CH
Kali arsenicosum  6CH
Mezereum  6CH
Viola tricolor  3X
Non Medicinal Ingredients
glycerin, citric acid, purified water, lactose (trace amount)
Recommended Use
Homeopathic remedy to help relieve symptoms associated with eczema such as redness, itching and eruptions.
DIRECTIONS
Ages 12 years and over: for general dosing, take 1ml, 3 times per day under the tongue or in a little water. For acute symptoms, take 1ml every 30-60 minutes (up to 12 times per day). When symptoms improve, resume general dosing. Shake well before each use. 
Cautions
Consult a healthcare practitioner prior to use if you are pregnant or breastfeeding, and during use if symptoms persist or worsen, or if new symptoms develop. Do not use if seal is broken. Keep out of reach of children. 
---
We Also Recommend