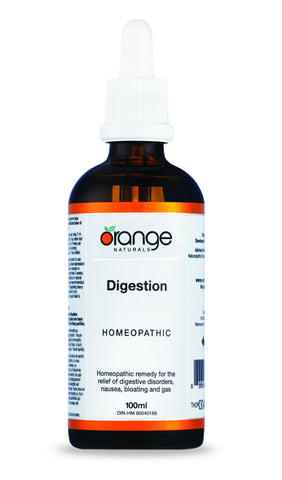 Orange Naturals Digestion
Are you distressed by the thought of your next meal because of impending stomach pains, gas, bloating and nausea? Digestion by Orange Naturals addresses the full range of digestive discomfort people might experience due to poor digestion – from flatulence and indigestion to annoying rumbling noises. This gentle homeopathic formula will calm your tummy and let you enjoy food again without fear. 
Relief of nausea, bloating and gas
Relief of heartburn, burping and dyspepsia due to the fermentation of foods such as cabbage, beans, etc.
Liquid format is simple to administer and absorbs quickly
Medicinal grade alcohol base
INGREDIENTS
Medicinal Ingredients
Each ml contains
Carbo vegetabilis (activated charcoal)  

6X

Lycopodium clavatum (clubmoss)  

6X

Natrum phosphoricum  

6X

Nut vomica  

12X
Non Medicinal Ingredients
25% grain alcohol, purified water, lactose (trace amount)
Recommended Use
Homeopathic remedy for the relief of digestive disorders, nausea, bloating and gas
DIRECTIONS
Ages 12 and over: for general dosing, take 1ml, 3 times per day under the tongue or in a little water. For acute symptoms, take 1ml every 30 - 60 minutes (up to 12 times per day). When symptoms improve, resume general dosing. Shake well before each use.
Cautions
Consult a healthcare practitioner prior to use if you are pregnant or breastfeeding, and during use if symptoms persist or worsen, or if new symptoms develop. Do not use if seal is broken. Keep out of reach of children.
---
We Also Recommend