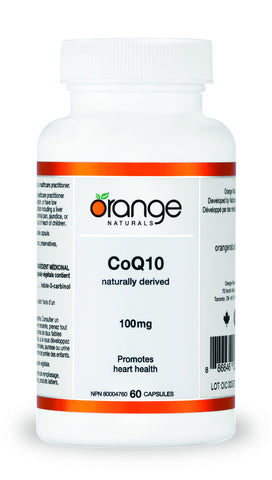 Orange Naturals CoQ10 100 mg
Coenzyme Q10 is an antioxidant found in virtually every cell in your body. In fact, it is found in the part of the cell that is responsible for creating energy and the highest concentration of CoQ10 is found in the heart. Unfortunately, as we age, our ability to produce CoQ10 on our own is reduced. For this reason, taking a CoQ10 supplement is an important way to promote heart health. As well, when taken daily over a three month period, CoQ10 is also an excellent supplement for helping to prevent migraine headaches.
Supports healthy heart muscles and maintains heart health
Strong antioxidant 
Prevents migraine headaches
Increases cellular energy
Easy to swallow capsules
INGREDIENTS
Medicinal Ingredients
Each capsules contains
Coenzyme Q10 (ubiquinone from bacterial culture)  

100mg
Non Medicinal Ingredients
Dicalcium phosphate, microcrystalline cellulose, magnesium stearate, gelatin
Recommended Use
Promotes heart health.
DIRECTIONS
Adults: Take 1 capsule per day.
Contraindications
Do not use if you are pregnant or breastfeeding 
Drug Interactions
Consult a healthcare practitioner prior to use if you are taking blood pressure medications or anticoagulants such as warfarin
---
We Also Recommend