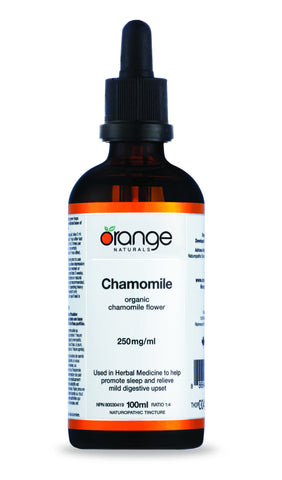 Orange Naturals Chamomile Tincture
Look for sweet dreams and a happy tummy with this soothing herb. Chamomile has been used throughout the ages to help relieve stomach upset while lulling us into sleep. It is probably one of the most relaxing herbs in the western world. When anxiety and tension cause digestive problems such as bloating, belching and gas, look to Chamomile for relief. Chamomile produces pretty flowers, but potent medicine.
Helps relieve inflammatory conditions of the gastrointestinal tract
Soothes mild digestive disturbances such as dyspepsia, flatulence, bloating and belching
Helps to calm
Sleep aid
Made from organic and wildcrafted herbs
Therapeutic dose of condition-specific herbs
Tinctures are rapidly absorbed and metabolized – absorption begins in the mouth, allowing the body to absorb up to 98% of the medicinal components
Large 100ml bottle size offers great value
INGREDIENTS
Medicinal Ingredients
Each ml contains 250 mg of organically grown chamomile flowers (Chamomilla recutita). It is a 1:4 flower extract. 
Non Medicinal Ingredients
40% gluten-free grain alcohol and purified water
Recommended Use
Chamomile helps to relieve mild digestive upset and promote sleep
Cautions
Do not use chamomile if you are allergic to plants of the daisy family. If you find that you are developing any sort of allergic reaction, discontinue use. And always talk to your healthcare practitioner if your symptoms persist or get worse!
DIRECTIONS
Ages 2 - 9: 2ml, 1 time per day; ages 10 - 14: 4ml, 1 time per day; ages 15 and over: 4ml, 2 times per day. Take on an empty stomach.
---
We Also Recommend