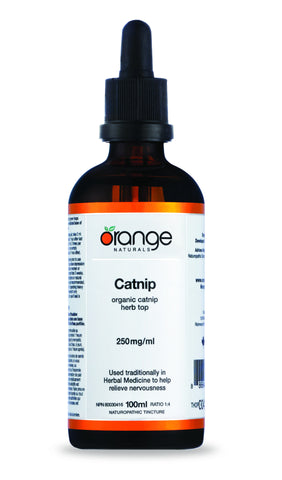 Orange Naturals Catnip Tincture
Meowww…Catnip is not just for cats! It helps soothe digestive complaints and relieves diarrhea, with a calming effect that will get you purring again. Catnip calms the nerves and helps with sleep. Catnip has also been used traditionally to help people sweat when they have a fever, which can help rid the body of infectious agents and speed up recovery. It gives the expression "cool cat" a whole new meaning.
Helps relieve digestive spasms
Good for digestive upsets with gas or flatulence
Calms and relieves nervousness
Helpful for diarrhea
Used traditionally in herbal medicine to help with digestive disturbances that accompany the flu 
Anti-microbial
Sleep aid
Made from organic and wildcrafted herbs
Therapeutic dose of condition-specific herbs
Tinctures are rapidly absorbed and metabolized – absorption begins in the mouth, allowing the body to absorb up to 98% of the medicinal components
Large 100ml bottle size offers great value
INGREDIENTS
Medicinal Ingredients
Each ml contains 250 mg of organically grown catnip herb tops (Nepeta cataria). It is a 1:4 herb top extract. 
Non Medicinal Ingredients
40% gluten-free grain alcohol and purified water
Recommended Use
Catnip helps to relieve nervousness and digestive spasms
DIRECTIONS
Adults: Take 2ml, 3 times per day on an empty stomach
Contraindications
Do not use if you are pregnant
Cautions
Consult a healthcare practitioner prior to use if you are breastfeeding
---
We Also Recommend