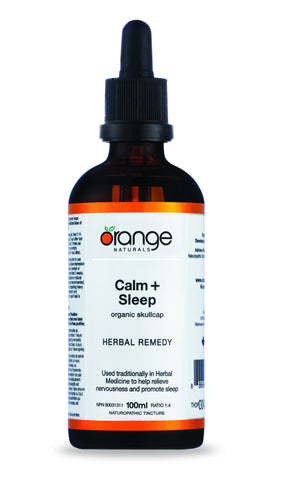 Orange Naturals Calm & Sleep Tincture
Restlessness? Insomnia due to stress? Nervousness or anxiety? Try Calm+Sleep tincture. It contains 250mg of organic skullcap, a herb with over a dozen compounds that helps to alleviate anxiety and nervous tension. Modern herbalists use it as a mild relaxant for treating anxiety, insomnia and tension. So if you're worried and can't sleep, stay calm and try some Calm+Sleep.
Relieves nervousness
Helps to calm
Sedative
Sleep aid (especially for insomnia due to restlessness or stress)
Antispasmodic
Made from organic and wildcrafted herbs
Therapeutic dose of condition-specific herbs
Tinctures are rapidly absorbed and metabolized – absorption begins in the mouth, allowing the body to absorb up to 98% of the medicinal components
Large 100ml bottle size offers great value
INGREDIENTS
Medicinal Ingredients
Each ml contains 250mg of organically grown Skullcap herb tops (Scutellaria lateriflora). It is a 1:4 herb top extract. 
Non Medicinal Ingredients
40% gluten-free grain alcohol and purified water
Recommended Use
Skullcap helps to relieve nervousness and promote sleep
DIRECTIONS
Adults: Take 2ml, 3 times per day on an empty stomach
Contraindications
Do not use if you are pregnant or breastfeeding
Cautions
Consult a healthcare practitioner if sleeplessness persists continuously for more than 3 weeks. 
Drug Interactions
Consumption with alcohol or other medications or natural health products with sedative properties is not recommended. 
Side Effects
May cause drowsiness. Exercise caution if operating heavy machinery, driving a motor vehicle, or involved in activities requiring mental alertness. 
---
We Also Recommend