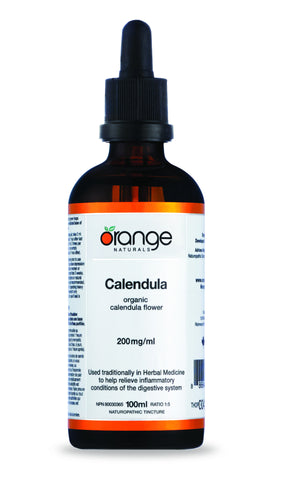 Orange Naturals Calendula Tincture
Digestive inflammation? Indigestion? Think "Calendula" and think "relief". The beautiful flower of the Calendula plant is used traditionally as a topical treatment to relieve skin inflammations. Calendula's anti-inflammatory properties may be applied internally as well. Recent German studies show that Calendula can prevent swelling and inflammation of the stomach lining and researchers are taking a closer look at Calendula for possible use in the treatment of stomach ulcers.
Helps to relieve mucous membrane inflammations in the mouth
Soothes sore throats
Anti-inflammatory
Helps to reduce irritations in the lining of the stomach
Made from organic and wildcrafted herbs
Therapeutic dose of condition-specific herbs
Tinctures are rapidly absorbed and metabolized – absorption begins in the mouth, allowing the body to absorb up to 98% of the medicinal components
Large 100ml bottle size offers great value
INGREDIENTS
Medicinal Ingredients
Each ml contains 200 mg of organically grown calendula flowers (Calendula officinalis). It is a 1:5 flower extract.
Non Medicinal Ingredients
40% gluten-free grain alcohol and purified water
Recommended Use
Calendula helps to relieve inflammatory conditions of the digestive system
DIRECTIONS
Adults: Take 2ml, 2 times per day on an empty stomach
Contraindications
Do not use if you are pregnant or allergic to plants of the daisy family 
Cautions
Consult a healthcare practitioner prior to use if you are breastfeeding 
Side Effects
Hypersensitivity has been known to occur - discontinue use if so
---
We Also Recommend