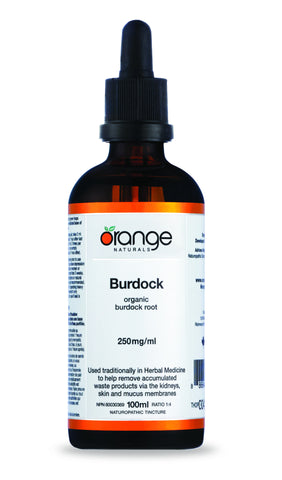 Orange Naturals Burdock Tincture
Do some internal housecleaning with Burdock. Burdock turns on the body's taps and clears out all the waste that's rounded up by the liver. It helps to stimulate the body's natural detoxification processes, including sweating and urination. It can also help to ease any achiness in your bones by scrubbing out deposits that have hardened around the joints. Don't wait until spring to start cleaning out those cobwebs!
Mild diuretic
Helps remove accumulated waste products via the kidneys, skin and mucous membranes
Helps alleviate the pain associated with rheumatism
Made from organic and wildcrafted herbs
Therapeutic dose of condition-specific herbs
Tinctures are rapidly absorbed and metabolized – absorption begins in the mouth, allowing the body to absorb up to 98% of the medicinal components
Large 100ml bottle size offers great value
INGREDIENTS
Medicinal Ingredients
Each ml contains 250 mg of organically grown burdock root (Arctium lappa). It is a 1:4 root extract.
Non Medicinal Ingredients
40% gluten-free grain alcohol and purified water, with organically grown licorice root as a natural flavour enhancer
Recommended Use
Burdock helps to remove accumulated waste products via the kidneys, skin and mucus membranes.
DIRECTIONS
Adults: Take 4ml, 2 times per day on an empty stomach
Contraindications
Do not use if you are pregnant or allergic to plants of the daisy family 
Cautions
Consult a healthcare practitioner prior to use if you are breastfeeding or if you have diabetes. 
Side Effects
Hypersensitivity has been known to occur - discontinue use if so
---
We Also Recommend