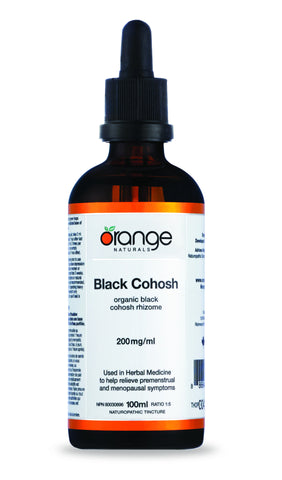 Orange Naturals Black Cohosh Tincture
Black Cohosh is most valuable for balancing the female reproductive system. It was originally used by the women of the early Algonquin First Nations for 'female problems' and childbirth. Modern day herbalists prescribe it for menstrual pain, nervous tension, PMS and menopausal symptoms. Find relief from those monthly irritations with Black Cohosh.
Helps relieve pain associated with menstruation
Helps relieve muscle and joint pain associated with rheumatic conditions such as rheumatoid arthritis, osteoarthritis and/or fibrositis
Helps relieve nerve pain such as sciatica
Helps ease nervous tension
Helps relieve PMS symptoms
Helps relieve symptoms associated with menopause, such as night sweats
Made from organic and wildcrafted herbs
Therapeutic dose of condition-specific herbs
Tinctures are rapidly absorbed and metabolized – absorption begins in the mouth, allowing the body to absorb up to 98% of the medicinal components
Large 100ml bottle size offers great value
INGREDIENTS
Medicinal Ingredients
Each ml contains 200 mg of organically grown black cohosh rhizomes (Actaea racemosa). It is a 1:5 rhizome extract. 
Non Medicinal Ingredients
40% gluten-free grain alcohol and purified water, with organically grown cinnamon bark as a natural flavour enhancer.
Recommended Use
Black Cohosh helps to relieve premenstrual and menopausal symptoms.
DIRECTIONS
Adult women: Take 3ml, 2 times per day on an empty stomach
Contraindications
Do not use if you are pregnant
Cautions
Consult a healthcare practitioner prior to use if you are breastfeeding or if you have a liver disorder
Side Effects
Discontinue use and consult a healthcare practitioner if you develop symptoms of liver trouble
---
We Also Recommend