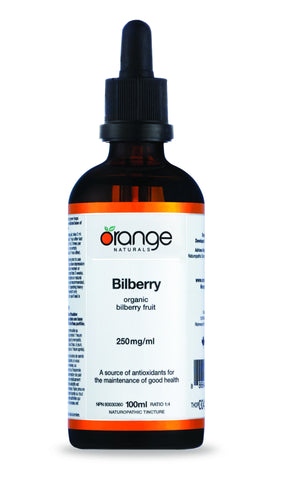 Orange Naturals Bilberry Tincture
Bilberry is like prevention in a bottle, as it is a wonderfully rich source of vital antioxidants. Antioxidants help you to step up the fight against nasty free radicals – toxins and other damaging substances that stress your cells and speed up aging in areas like the eyes, skin and veins. Bilberry has a long history of medicinal use as it is also remarkably effective in relieving diarrhea. Prolong your vitality with Bilberry!
Helps relieve diarrhea
Very high in antioxidants
Helps slow the progression of eye disorders, such as diabetic and hypertensive retinopathy and macular degeneration
Used in Herbal Medicine to help relieve symptoms related to non-complicated chronic venous insufficiency (CVI), such as sensation of swelling, heaviness and tingling of the legs
Made from organic and wildcrafted herbs
Therapeutic dose of condition-specific herbs
Tinctures are rapidly absorbed and metabolized – absorption begins in the mouth, allowing the body to absorb up to 98% of the medicinal components
Large 100ml bottle size offers great value
INGREDIENTS
Medicinal Ingredients
Each ml contains 250 mg of organically grown bilberry fruit (Vaccinium myrtillus). It is a 1:4 fruit extract
Non Medicinal Ingredients
40% gluten-free grain alcohol and purified water
Recommended Use
Bilberry is a source of antioxidants for the maintenance of good health
DIRECTIONS
Adults: Take 2ml, 4 times per day on an empty stomach
Cautions
Bilberry has no known cautions or contraindications. But always talk to your healthcare practitioner if your symptoms persist or get worse!
---
We Also Recommend