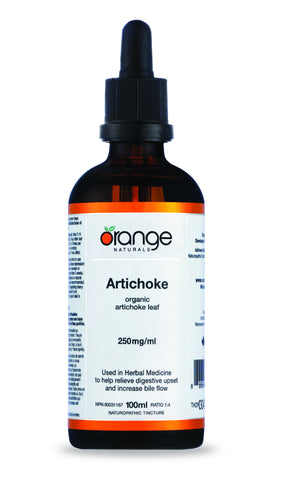 Orange Naturals Artichoke Tincture
Feeling bloated? Poor digestion? If food is your foe instead of your friend, then turn to Artichoke. Artichoke (also known as Globe Artichoke) is a digestive remedy that stimulates your liver to produce bile, which is essential for the breakdown and digestion of fats. Poor fat digestion can lead to gas, bloating, constipation and overall discomfort after meals. Give Artichoke a try and you may just be friends with your food once more!
Relieves digestive disturbances such as dyspepsia
Helps increase bile flow
Aids with the digestion of fats
Made from organic and wildcrafted herbs
Therapeutic dose of condition-specific herbs
Tinctures are rapidly absorbed and metabolized – absorption begins in the mouth, allowing the body to absorb up to 98% of the medicinal components
Large 100ml bottle size offers great value
INGREDIENTS
Medicinal Ingredients
Each ml contains 250 mg of organically grown artichoke leaf (Cynara cardunculus). It is a 1:4 leaf extract
Non Medicinal Ingredients
40% gluten-free grain alcohol and purified water
Recommended Use
Artichoke helps to relieve digestive upset and increase bile flow
DIRECTIONS
Adults: Take 2ml, 3 times per day on an empty stomach
Contraindications
Do not use if you are allergic to plants of the daisy family or if you have a bile duct obstruction
Cautions
Consult a healthcare practitioner prior to use if you are pregnant or if you have gallstones. 
Side Effects
Hypersensitivity has been known to occur - discontinue use if so
---
We Also Recommend