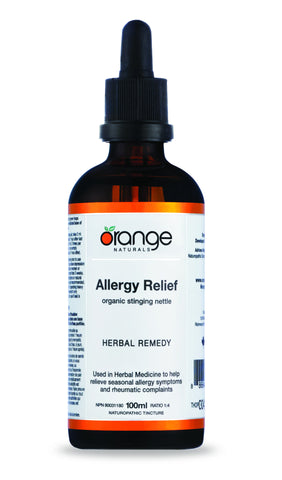 Orange Naturals Allergy Relief Tincture
Stinging nettle has been used for centuries in Herbal Medicine to help relieve allergy symptoms. Research has demonstrated that stinging nettle is more effective than a placebo in treating allergic rhinitis. This is likely due to its natural anti-inflammatory properties. Stinging nettle may also help speed the healing of hives through its ability to block chemicals which normally trigger the release of histamine. 
Relieves seasonal allergy symptoms
May speed healing of hives
Acts as a natural diuretic
Provides all the benefits of a nutritive tonic
Made from an organic herb
Therapeutic dosage
Tincture is rapidly absorbed and metabolized – absorption begins in the mouth, allowing the body to absorb up to 98% of the medicinal components
Large 100 ml bottle size offers great value
INGREDIENTS
Medicinal Ingredients
Each ml contains 250mg of organically grown Stinging nettle (herb tops, Urtica dioica). It is a 1:4 herb top extract
Non Medicinal Ingredients
40% gluten-free grain alcohol and purified water
Recommended Use
Stinging Nettle herb top helps to relieve seasonal allergy symptoms and rheumatic complaints.
DIRECTIONS
Adults: Take 2ml, 3 times per day on an empty stomach
Contraindications
Do not use if you are pregnant or breastfeeding
---
We Also Recommend