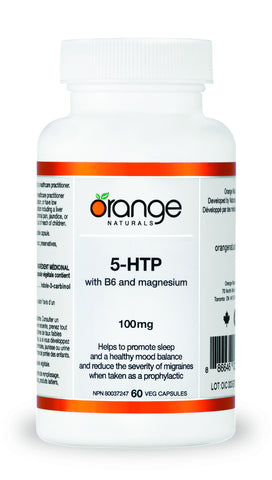 Orange Naturals 5-HTP 100 mg with B6 and Magnesium
5-HTP is short for 5-hydroxytryptophan. It is produced in the body from a small protein building block called tryptophan. 5-HTP helps the body to make the important "feel good" brain chemical called serotonin and the vital "sleep" hormone, melatonin. Supplementation with 5-HTP can help boost these important brain chemicals which in turn promote a healthy mood, better sleep and a reduction in the sensation of pain. 
Benefits
Promotes healthy mood balance
Improves sleep patterns
Works to prevents migraine headaches 
Reduces severity of migraines
Reduces sensation of pain in fibromyalgia
Features
Enhanced with vitamin B6 and magnesium – important co-factors to help the body convert and utilize 5-HTP
Naturally derived from the African plant griffonia simplicifolia 
Positive effects on moods, sleep and pain
Vegetable capsules
Ideal 100mg dosage
INGREDIENTS
Medicinal Ingredients
Each vegetable capsules contains
5-HTP (5-hydroxy-L-tryptophan)100mg
Magnesium (Bisglycinate)60mg
Vitamin B6 (Pyridoxine hydrochloride) 33.3mg
Non Medicinal Ingredients
Vegetable-grade magnesium stearate, vegetable capsule
Recommended Use
Helps to promote sleep and a healthy mood balance.
DIRECTIONS
Adults: Take 1 capsule, 3 times per day with food. As a sleep aid, take 1 - 2 capsules, 45 minutes before bedtime. To minimize the risk of gastrointestinal side effects, start dosing at 1 capsule, 1 - 2 times per day and slowly increase to the effective dose over a two-week period.
For best results, take for a minimum of 2 - 3 weeks. Consult a healthcare practitioner for use beyond 1 year.
Contraindications 
Do not use if you have scleroderma.
Cautions
Consult a healthcare practitioner prior to use if you are pregnant or breastfeeding, or if sleeplessness persists continuously for more than 3 weeks.   May cause drowsiness, diarrhoea, nausea, vomiting, or abdominal pain. Exercise caution if operating heavy machinery, driving a motor vehicle, or involved in activities requiring mental alertness. Discontinue use and consult a healthcare practitioner if you show signs of weakness, oral ulcers, skin changes, or abdominal pain accompanied by severe muscle pain. 
Drug Interactions
Consult a healthcare practitioner prior to use if you are taking carbidopa or medications or natural health products with serotonergic activity. These may include, but are not limited to, L-tryptophan, S-adenosylmethionine (SAMe), St. John's wort, antidepressants, painkillers, anti-nausea and anti-migraine medications, and over-the-counter cough and cold medications containing dextromethorphan.
---
We Also Recommend