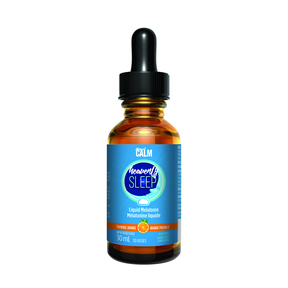 Natural Calm Heavenly Sleep Liquid Melatonin
Natural Calm's Heavenly Sleep Liquid Melatonin activates the body's own natural cues to sleep, drug-free. The Sleep Liquid is fast-acting to get the rest you need, when you need it, and feel refreshed in the morning.
No sugar or artificial sweeteners
Wheat free
Dairy and egg free
Soy and nut free
Does not contain any genetically-modified ingredients or animal products
INGREDIENTS
Melatonin
Non-Medicinal Ingredients: glycerin, citric acid, orange flavour, purified water, alcohol
Melatonin Contraindications: Do not use if you are taking immunosuppressive drugs. Do not use if you are pregnant or breastfeeding. Do not drive or use machinery for 5 hours after taking melatonin. Formulated and intended for adults; consult a health care practitioner before administering to children.
Melatonin Cautions: If symptoms persist continuously for more than 4 weeks (chronic insomnia), consult your health care practitioner. Consult a health care practitioner prior to use if you have a hormonal disorder, diabetes, liver or kidney disease, cerebral palsy, seizure disorders, migraine, depression and/or hypertension or if you are taking blood pressure or sedative/hypnotic medications.
DIRECTIONS
At or near bedtime, add 1 dropperful (1ml or 3mg) of Heavenly Sleep to your cup of Natural Calm, or take with water.
---
We Also Recommend