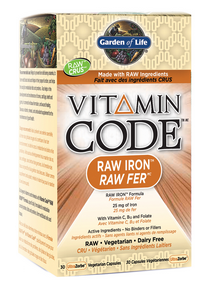 Garden of Life Vitamin Code Raw Iron
Go beyond vitamins and minerals with Vitamin Code RAW IRON! This formula was specifically formulated to:
Help prevent iron deficiency
Help prevent anemia
Form red blood cells and help in their proper function
Help the body to metabolize fats and proteins
Help in the development and maintenance of bones, cartilage, teeth and gums
Help in connective tissue formation and wound healing
INGREDIENTS
 (per capsule):
Vitamin B12 (from cyanocobalamin) ... 500 mcg
Vitamin C (from ascorbic acid) ... 25 mg
Folate (from folic acid) ... 400 mcg
Iron (from iron carbonyl) ... 22 mg
Non-medicinal Ingredients: Dried yeast (Saccharomyces cerevisiae), Organic Fruits and Vegetable Blend (organic strawberry, organic tart cherry, organic blackberry, organic blueberry, organic raspberry, organic beet, organic carrot, organic broccoli, organic cucumber, organic tomato, organic kale, organic spinach, organic red cabbage, organic cauliflower, organic celery, organic parsley, organic asparagus, organic Brussels sprout, organic green bell pepper, organic garlic, organic ginger, organic onion), microcrystalline cellulose (vegetable cellulose), silicon dioxide, hypromellose
DIRECTIONS
(Adults): Take 1 capsule daily with water or your favourite raw juice. If you have difficulty swallowing capsule, twist open 1 capsule daily, empty contents into a glass of water or your favourite raw juice, stir, and drink. Take with food a few hours before or after taking other medications.
Caution:

Consult a health care practitioner prior to use if you are pregnant or breastfeeding.
---
We Also Recommend