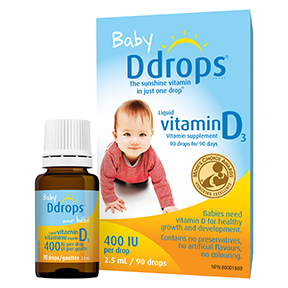 Ddrops Baby Ddrops 400 IU
Baby Ddrops is a Liquid Vitamin D3 designed specifically for breastfed babies and infants. Only 1 drop is required to provide the full daily dose of 400 IU Vitamin D as recommended by the Canadian Pediatric Society and the American Academy of Pediatrics, making it a convenient and easy way to give your baby the nutrients that they need, without the stuff they do not need.
Baby Ddrops has been awarded Gold by Moms' Choice Award.
INGREDIENTS
Vitamin D3 (colecalciferol) 400 IU (10 mcg)
Non-medicinal Ingredients: Thin vegetable oil (purified components of coconut and palm oil).
---
We Also Recommend