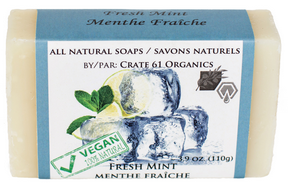 Crate 61 Organics Inc. Fresh Mint Soap
Crate 61 Organics Inc. Fresh Mint Soap is made with spearmint and peppermint essential oils, blended with Mexican lime and Sicilian lemon essential oils...makes for a super minty and fresh bar of soap!
Great staying power! Leaves you smelling very fresh and clean!
Essential oils of the mint family are very astringent, making this bar extra anti bacterial. Very popular facial bar.
INGREDIENTS
Extra Virgin Olive Oil, Avocado Oil, Palm Oil, Coconut Oil, Almond Oil, Spearmint essential oil, Peppermint essential oil, Lime essential oil, lemon essential oil
DIRECTIONS
Lather soap between hands and massage into skin.

---
We Also Recommend