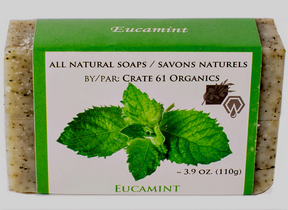 Crate 61 Organics Inc. Eucamint Soap
Eucamint soap is formulated with a heavy dose of eucalyptus, rosemary and peppermint essential oils which will open up your airways and soothe your headache. The menthol that naturally exists in peppermint essential oil will leave your skin feeling cool and clean. Peppermint leaves are added for minor exfoliation!
INGREDIENTS
Extra Virgin Olive Oil, Palm Oil, Coconut Oil, Almond Oil, Eucalyptus essential oil, Peppermint essential oil, Rosemary essential oil, peppermint leaves
DIRECTIONS
Lather soap between hands and massage into skin.
---
We Also Recommend