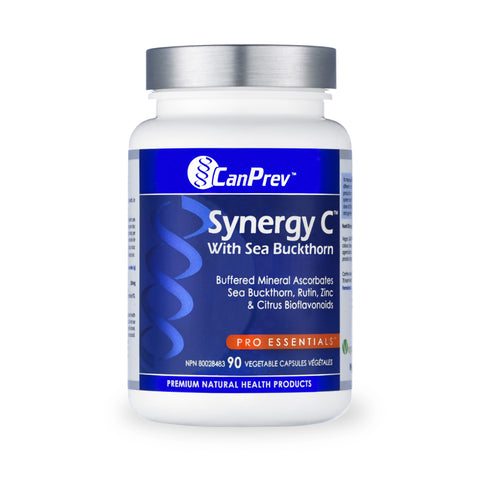 CanPrev Synergy C
Synergy C™ is an antioxidant for the maintenance of good health.
CanPrev's Synergy C is a broad-spectrum, professional-grade vitamin C complex

This bio-optimised formula contains 1000mg of vitamin C daily, derived from a blend of four gentle, buffered, mineral ascorbates (magnesium, calcium, sodium, potassium)

It is enhanced with citrus bioflavonoids and rutin to improve the absorption of vitamin C and is strengthened with added zinc for immunity

Synergy C contains sea buckthorn whole pulp extract (raw equivalent of 1000mg daily). Sea Buckthorn is a nutrient-rich fruit which has been shown to have between 5 and 100 times more vitamin C than any other fruit or vegetable

This synergistic formula comes in easy-to-swallow vegetable capsules filled with only essential active ingredients. There are no binders or fillers

INGREDIENTS
Per capsule
Vitamin C 500mg
Derived from a blend of 650mg of four mineral ascorbates:  340mg of magnesium ascorbate, 165mg of calcium ascorbate, 75mg of sodium ascorbate, 26mg of potassium ascorbate)
Citrus Bioflavonoids 150mg
Sea Buckthorn (pulp extract - raw equivalent to 500mg) 4:1 125mg
Rutin (quercetin-3-rutinosides)    25mg
Zinc (zinc citrate) 0.625mg
Non-medicinal ingredients: Vegetable-grade mag
DIRECTIONS
Adults - Take 2 capsules per day with food, a few hours before or after taking other medications or as directed by a healthcare practitioner.
---
We Also Recommend