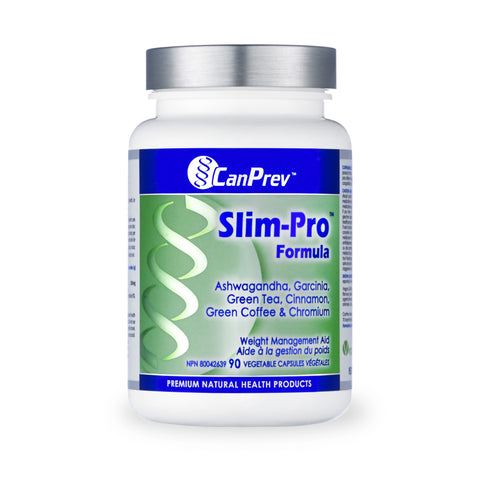 CanPrev Slim-Pro Formula
Slim-Pro Formula was developed to help support healthy blood sugar metabolism and aid weight management when used along with a program of reduced intake of dietary calories and increased physical activity.
Insulin resistance (the reduced sensitivity of the body's cells to the action of insulin) appears to be a common feature and possible contributing factor in a number of emerging health problems - particularly obesity. 

Slim-Pro Formula promotes a healthy blood sugar balance which in turn helps to curb cravings.

Provides support for the stress aspect of erratic eating habits, making it a sensible choice for individuals who may have a tendency to either overeat or under eat. 

INGREDIENTS
Per capsule
Ashwagandha extract (withania somnifera) root 5:1 200mg
Green tea extract (camellia sinensis) 45% EGCG, 25% caffeine 150mg
Chinese cinnamon (cinnamomum aromaticum) 10:1 110mg
Garcinia cambogia (garcinia gummi-guta) 60% HCA 100mg
Green coffee (coffea arabica) 45% chlorogenic acid 100mg
Chromium (chromium polynicotinate) 50mcg
Non-medicinal ingredients: Vegetable-grade magnesium stearate (1%), vegetable capsule.  
DIRECTIONS
Adults - Take 1 capsule 3 times per day with food or immediately before meals, or as directed by a healthcare practitioner. Do not take immediately before going to bed. For optimal results take for a minimum of 3 months.
---
We Also Recommend