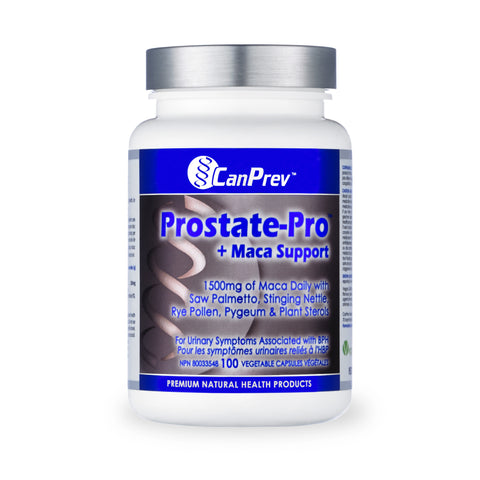 CanPrev Prostate-Pro + Maca Support
Prostate-Pro + Maca Support is an all natural formulation designed to reduce prostate inflammation, improve urinary flow and increase libido.
It works safely to discourage prostate inflammation, normalize urination and enhance circulation which is especially important when the prostate is swollen or congested

Prostate-Pro + Maca Support is rich in antioxidants which provide support for prostate tissue health

The formula contains traditional herbs, such as stinging nettle and saw palmetto, which produce a natural diuretic effect and have been shown to help reduce difficulty in urination associated with benign prostatic hyperplasia (BPH)

Important nutrients such as lycopene, selenium, zinc, and vitamin D are also included in the formula to provide antioxidant protection to help support prostate health
INGREDIENTS
Each capsule contains
Maca extract root 0.6% glucosinolates     375mg
Saw palmetto extract 45% free fatty acids     140mg
Stinging nettle extract 5:1    50mg
Rye pollen extract 20:1    31.3mg
American ginseng extract 20% ginsenosides    30mg
Selenium yeast (0.2% elemental)    25mg
Pygeum africanum extract 15:1    18.8mg
Beta-sitosterols 40% (soy)    15mg
Zinc citrate (30% elemental)    7.5mg
Lycopene 5% (tomato)    375mcg
Vitamin D3 (cholecalciferol)    100IU
Non-medicinal ingredients: Vegetable-grade magnesium stearate (1%), vegetable capsule.
DIRECTIONS
Adult men - Take two (2) capsules two (2) times daily with food or as directed by a healthcare practitioner. Take a few hours before or after taking other medications.
---
We Also Recommend