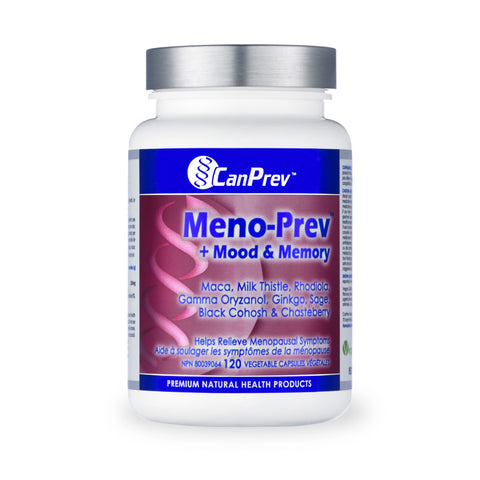 CanPrev Meno-Prev + Mood & Memory
Meno-Prev + Mood & Memory is an all natural formula designed to provide direct relief for specific menopausal complaints, while, at the same time offering broad support to other bodily systems most often affected by the hormonal changes of menopause.
Meno-Prev + Mood & Memory contains gentle herbs to help alleviate symptoms relating to issues of mood, memory and libido

This comprehensive formula provides liver and circulatory support

It also contains herbs to reduce symptoms of PMS for those in the perimenopause phase

INGREDIENTS
Per capsule
Maca extract root, 0.6% glucosinolates    375mg
Milk thistle extract 80% silymarin 87.5mg
Gamma oryzanol (rice bran) 75mg
Rhodiola extract 3% rosavins 60mg
Ginkgo biloba extract 24% flavoglycosides,6% terpene lactones 40mg
Sage (salvia officinalis) leaf 30mg
Black cohosh (actaea racemosa) root 40mg
Chasteberry extract (vitex agnus castus) 4:1 30mg
Non-medicinal ingredients: Vegetable-grade magnesium stearate (1%), vegetable capsule.
DIRECTIONS
Adult women - Take 1 capsule 3 times per day, a few hours before or after taking other medications. Do not take immediately before going to bed.

Consult a healthcare practitioner for use beyond six weeks. Periodic intervals of abstinence (two week breaks before continuing) are recommended for long- term use.
---
We Also Recommend