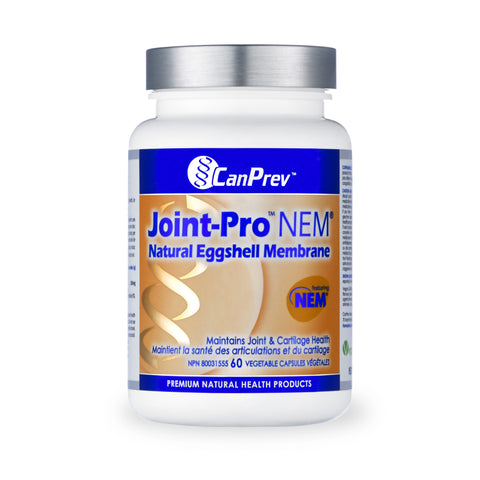 CanPrev Joint-Pro NEM
Joint-Pro NEM- is a unique, advanced formula for the maintenance of joint health and maintaining healthy cartilage. Joint-Pro NEM™  helps in the reduction of pain and stiffness associated with osteoarthritis of the knee.
Natural Eggshell Membranes (NEM) have been shown to be a natural source of glucosamine, chondroitin and hyaluronic acid.

The combination of natural eggshell membrane (NEM) and glucosamine makes this a superior joint formulation for those with more advanced movement complaints

INGREDIENTS
(per capsule)
Natural Eggshell Membrane (partially hydrolysed chicken eggshell membrane) - 250mg
Glucosamine HCl - 750mg
Non-medicinal ingredients: Vegetable-grade magnesium stearate (1%), vegetable capsule

DIRECTIONS
Adults - Take one (1) capsule two (2) times daily or as directed by a healthcare practitioner.
---
We Also Recommend