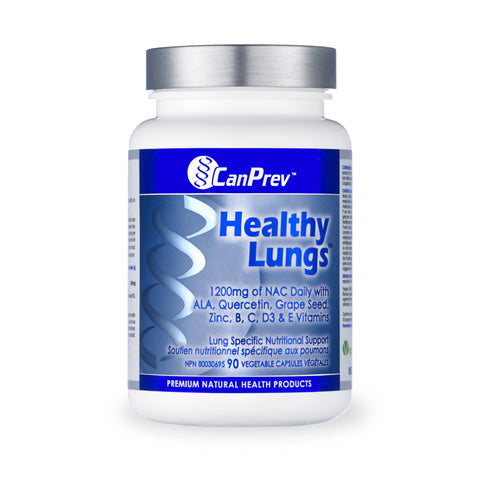 CanPrev Healthy Lungs
Healthy Lungs is an advanced multi-antioxidant formula aimed at preventing cellular damage to lung tissue caused by exposure to airborne pollutants or cigarette smoke.
Healthy Lungs provides a blend of specific antioxidants that can help counteract free radical damage to promote healthy lung function.

INGREDIENTS
Per capsule
N-acetyl-cysteine 400mg
Vitamin C (ascorbic acid) 166.7mg
Quercetin dihydrate 83.3mg
DL-Alpha lipoic acid 66.7mg
Grape seed extract (95% OPC) 50mg
Vitamin E (d-alpha-tocopherol, natural) 33.3mg AT/50IU
Vitamin B6 (pyridoxide HCL) 16.7mg
Zinc elemental (zinc citrate) 3.33mg
Vitamin B12 (methylcobalamin) 266.7mcg
Folic Acid (folate) 200mcg
Vitamin D3 (cholecalciferol) 5mcg/200IU
Non-medicinal ingredients: Vegetable-grade magnesium stearate (1%), vegetable capsule.
DIRECTIONS
Adults - Take 1 capsule 3 times per day with meals containing protein or as directed by a healthcare practitioner. Consult a healthcare practitioner for use beyond three months. Do not use beyond six months.
---
We Also Recommend