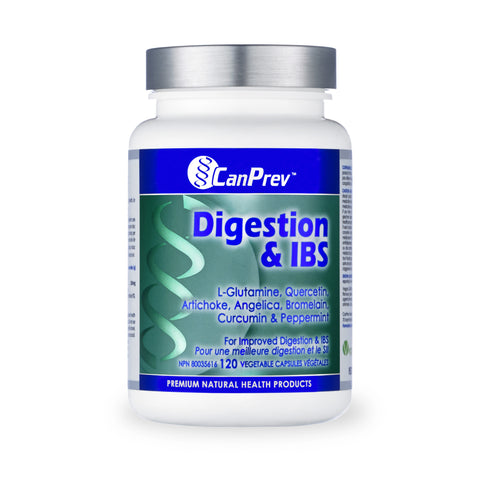 CanPrev Digestion & IBS
CanPrev's Digestion & IBS is a digestive formula developed for the relief of symptoms of Irritable Bowel Syndrome (IBS) and indigestion.
Digestion & IBS contains herbs, nutrients and enzymes traditionally used in herbal medicine to help relieve digestive complaints such as dyspepsia and flatulence and increase the secretion of bile acids (from the liver and gallbladder)

Many of the ingredients, particularly curcumin, also have natural anti-inflammatory effects to help decrease irritation and inflammation in the digestive tract.

Evidence in literature postulates that inflammation is an underlying factor in many gut dysfunctions.

As symptoms of impaired digestion, such as heartburn, bloating and fullness begin to be relieved, digestion is gently and effectively improved.
INGREDIENTS
Per Capsule
L-Glutamine 350mg
Quercetin 125mg
Artichoke (cynara scolymus) 107mg
Angelica archangelica root 50mg
Bromelain 1000 GDU (pineapple) 50mg
Curcumin (turmeric) 31mg
Peppermint (mentha x piperita) 20mg
Non-medicinal ingredients:
Vegetable-grade magnesium stearate (1%), vegetable capsule.


DIRECTIONS
Adults - Take 3 capsules 2 times per day with breakfast, lunch or dinner or as directed by a healthcare practitioner. For optimal results, take with plenty of fibre and probiotics. Consult a healthcare practitioner for use beyond 3 months.
---
We Also Recommend