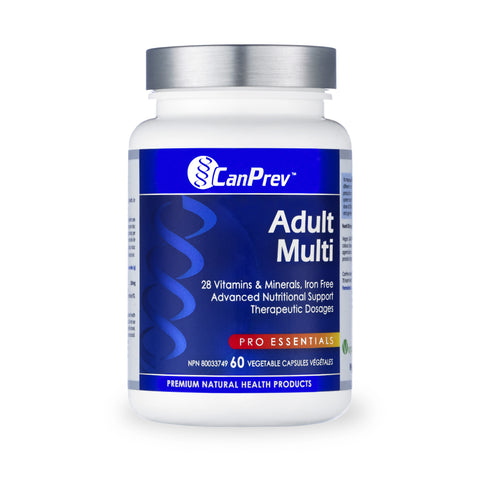 CanPrev Adult Multi
CanPrev's Adult Multivitamin without Iron is a comprehensive multivitamin-mineral formula for optimal daily nutritional support.
Delivers a full complex of B vitamins in high potency to support daily metabolic processes.

Enhanced with Vitamin D and K to support bone health; lutein to support eye health, and antioxidant and immunity support from Vitamin A, C, E and Zinc

CanPrev's Adult Multivitamin contains no iron, as iron is not a mineral that is required by everyone and excess intake of iron when not needed can be harmful

Each vegetable capsule provides all the vitamins and trace minerals in its preferred and active form for rapid absorption
 INGREDIENTS
Per capsule: Vitamin A (acetate) - 2500IU Beta carotene (natural) - 1000IU Vitamin C (ascorbic acid) - 100mg Vitamin D (cholecalciferol) - 500IU Vitamin E (d-alpha, natural) - 50IU Vitamin K1 (phytonadione) - 60mcg Vitamin B1 (thiamine HCL) - 25mg Vitamin B2 (riboflavin) - 25mg Vitamin B3 (niacinamide) - 25mg Vitamin B5 (D-pantothenic acid) - 25mg Vitamin B6 (pyridoxal-5-phosphate) - 25mg Biotin - 50mcg Folate (folic acid) - 400mcg Vitamin B12 (methylcobalamin) - 250mcg Calcium (carbonate) - 80mg Chromium (polynicotinate) - 50mcg Copper (citrate) - 500mcg Iodine (Laminaria digitata/Ascophyllum nodosum) - 100mcg Magnesium (oxide) - 30mg Manganese (citrate) - 500mcg Molybdenum (sodium molybdate) - 15mcg Potassium (potassium citrate) - 10mg Selenium (yeast) - 50mcg Vanadium (vanadyl sulfate) - 15mcg Zinc (citrate) - 5mg Choline (bitartrate) - 10mg Inositol - 10mg Lutein (marigold extract) - 3mg
 DIRECTIONS
Adults - Take two (2) capsules daily with food and a few hours before or after taking other medications or as directed by a healthcare practitioner.
---
We Also Recommend