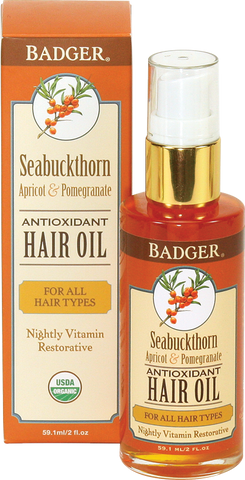 Badger Balm Seabuckthorn Hair Oil For All Hair Types
Badger Balm Seabuckthorn Hair Oil For All Hair Types treats your hair to vitamin and antioxidant-rich oils and extracts, and watch the shine and luster return to overworked hair. Powerful oils to deliver naturally occurring vitamins A, B, C, E, and K to nourish and replenish hair. Seabuckthorn and Pomegranate promote hair strength and elasticity, and Apricot is a potent emollient, imparting moisture and shine. Rosehip possesses regenerative properties, helping hair to return to its healthiest state.
Seabuckthorn Oil protects cells from oxidative damage and aids in collagen production (rich in Vitamins A, B, C, E, & K)
Apricot Oil easily penetrates the hair cuticle, delivering nutrition to dry and damaged hair (rich in Vitamins A, C, & E)
Pomegranate Oil contains high levels of antioxidants, and also promotes regeneration and strengthening of hair (rich in Vitamins B and C)
INGREDIENTS
*Simmondsia Chinensis (Organic Jojoba) Oil, *Helianthus Annuus (Organic Sunflower) Oil, *Prunus Armeniaca (Organic Apricot) Oil, *Punica Granatum (Organic Pomegranate) Oil, CO2 Extracts of *Hippophae Rhamnoides (Organic Seabuckthorn) and *Rosa Canina (Organic Rosehip), Essential Oils of *Lavandula Angustifolia (Organic Lavender), *Citrus Aurantium Dulcis (Organic Sweet Orange), *Pelargonium Graveolens (Organic Rose Geranium), and Tocopherol (Sunflower Vitamin E).

* = Certified Organic
DIRECTIONS
Step 1: Apply hair oil evenly to clean, dry hair. Amount will vary depending on hair type and length.

Step 2: Massage hair oil into hair and scalp. Work from the roots to the tips. Use a comb or your fingers to ensure even distribution.

Step 3: Allow hair oil to soak into hair for 1 hour or overnight. (Tip: use an old towel to protect your linens.)

Step 4: Shampoo and condition, then style as usual.
---
We Also Recommend