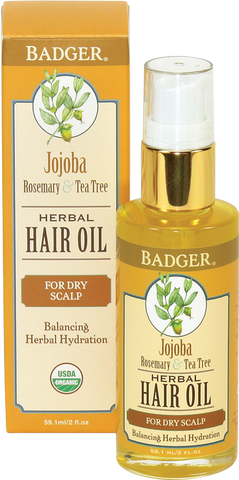 Badger Balm Jojoba Hair Oil For Dry Scalp
Badger Balm Jojoba Hair Oil For Dry Scalp has a synergistic blend of plant oils to deeply moisturize, while soothing itchy dry scalp and improving hair texture. Badger Balm Jojoba Hair Oil For Dry ScalpRosemary is the traditional herb for hair health because it stimulates the hair follicles, encouraging healthy hair from the root. Tea Tree and Rosemary deeply cleanse the scalp and help to deliver moisture, while Jojoba and Sunflower oils penetrate deeply into the roots, where they are most beneficial. Menthol and Peppermint cool and refresh, while imparting an energizing, cleansing tingle to the scalp. Sunflower Vitamin E nourishes dry skin and hair while generating a healthy shine.
Jojoba Oil conditions hair and scalp and balances oil production

Menthol Crystals and Peppermint Essential Oil stimulate hair follicles while soothing scalp with a cooling, tingly sensation

Rosemary and Tea Tree are powerful antimicrobial oils, and help to deeply cleanse hair follicles
INGREDIENTS
*Simmondsia Chinensis (Organic Jojoba) Oil, *Helianthus Annuus (Organic Sunflower) Oil, *Rosmarinus Officinalis (Organic Rosemary) Essential Oil, *Menthol (Organic Menthol Crystals), Essential Oils of *Melaleuca Alternifolia (Organic Tea Tree), *Mentha Piperita (Organic Peppermint), *Lavandula Angustifolia (Organic Lavender), and Tocopherol (Sunflower Vitamin E)

* = Certified Organic
DIRECTIONS
Step 1: Apply oil directly to scalp and hair roots. Amount will vary depending on degree of scalp dryness. Use up to 10-15 pumps for extra hydration.

Step 2: Massage oil into scalp and hair roots until oil begins to be absorbed.

Step 3: Wrap hair in a hot towel for 1 hour, or allow oil to soak into scalp and hair roots overnight. (Tip: use an old towel to protect your linens.)

Step 4: Shampoo and condition, then style as usual.
---
We Also Recommend