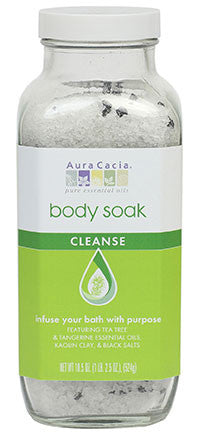 Aura Cacia Body Soak - Cleanse
Cleanse your body with this luxurious blend of pure essential oils, coconut shell charcoal and elemental Kaolin clay blended into marine salt. 
Essential Purity Tested
No Synthetic Colors Stabilizers
No Synthetic Fragrances
No Synthetic Colors Fragrances
No Animal Testing
Paraben Free
Pure Essential Oils
INGREDIENTS
Sea Salt, Sodium Chloride (Dendritic Salt), Tocopherol (Vitamin E), Melaleuca Alternifolia (Tea Tree) Oil, Citrus Reticulata (Tangerine) Oil, Kaolin (Clay), Citrus Sinensis (Sweet Orange) Oil, Canango Odorata (Ylang Ylang) Oil, Charcoal Powder (Coconut Shell Charcoal).
DIRECTIONS
For a Cleansing Bath: Sprinkle 1/2 cup of salts into running bath water, agitate until well dissolved, immerse body and soak for 15 to 30 minutes. Desire a stronger aromatic experience? Add up to 1 full cup of salts to your bath. Contains up to four baths.
Purifying Foot Scrub: Mix 2 tablespoons of the salt blend with 1 tablespoon of vegetable oil, gently massage into feet and toes, rinse, and dry with a soft towel.
---
We Also Recommend