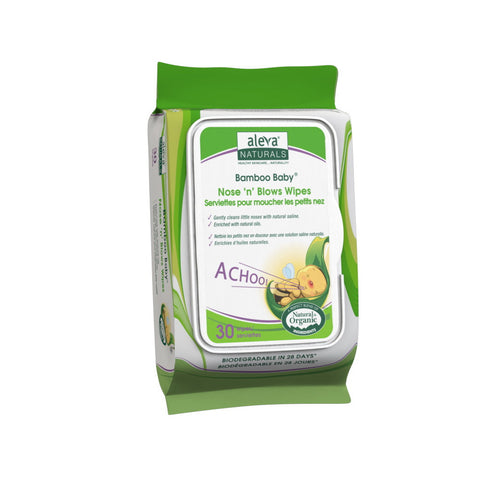 Aleva Naturals Bamboo Baby Nose n Blow Wipes
Aleva Naturals Bamboo Baby Nose n' Blows Wipes with Natural Saline Solution is a unique formulation that gently cleanses the mucus to clear baby's stuffy nose, while Eucalyptus and Menthol Oil vapours help soothe and comfort your baby to breathe easily.
Bamboo Cloth – gentle, green, unbleached and 100% biodegradable

Natural Eucalyptus Oil  – its healing vapours soothe inflammation, ease mucus build-up, help relieve nasal congestion

Natural Menthol – Naturally occurring oil derived from mint leaves, used for its cooling properties - menthol helps alleviate nasal congestion

Certified Organic Aloe Vera – Has marvellous skin healing benefits and is soothing for dry damaged skin. Relieves inflammation, redness, soothes itching and provides softness and shin

Certified Organic Chamomile Oil – is beneficial for dry skin, especially where there is redness or sensitivity. It is an anti-allergenic agent that is useful to soothe and prevent skin eruptions

Vitamin E - Hinders the oxidizing process in the skin and promotes soft and supple skin. As an antioxidant it defends the skin and promotes healing. Vitamin E oil is an emollient and helps make skin feel softer and smoother, reduces cracking and irritation
INGREDIENTS
Water/Eau, Glycerin, Sodium Chloride, Lauryl Glucoside, Sodium Benzoate, Sodium Citrate, Potassium Sorbate, Citric Acid, Chamomilla Recutita Flower Extract*, Tocopheryl Acetate, Aloe Barbadensis (Aloe Vera)* Leaf Extract, Eucalyptus Oil, Menthol
Pull back the reseal-able tab, remove and use wipes as required. Reseal after each use to prevent wipes from drying.
 
---
We Also Recommend