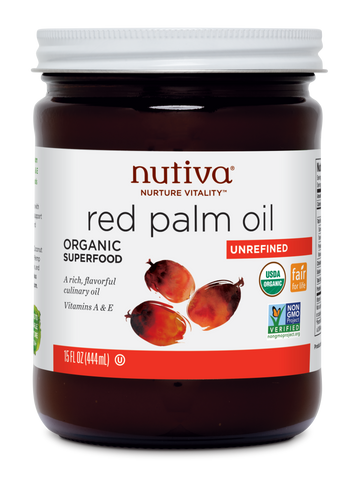 Nutiva Organic Red Palm Oil
Red palm oil is a nutrient-dense culinary oil. Its color reveals antioxidant vitamins A and E, in the forms of beta-carotene and rare tocotrienols and tocopherols of the vitamin E family.  Unlike other palm oils, Nutiva red palm oil does not contribute to deforestation or habitat destruction.  It is organic, fair trade certified, sustainable, responsibly-sourced, and habitat-safe. It has a mild carrot-like flavor, with a rich, buttery texture. It's ideal for soups, sauces and sautéing. It also turns regular popcorn into delicious (and healthy!) movie theater-style popcorn.
DIRECTIONS
No refrigeration required. Solid at cooler temperatures; easier to spoon if chilled. To melt, place jar in warm water. Specks and variations in color and consistency occur naturally in this oil. The deep color can stain some utensils. 
*Bottled in a facility that packs peanut oil.
---
We Also Recommend